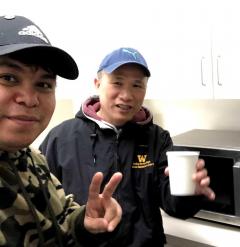 AFSCME member Kong Yeung, a 61-year-old maintenance custodian at the University of Washington, died in late March after contracting COVID-19. Two months later, his co-workers are still calling on the UW to follow public health guidance and take precautions to keep them safe from the coronavirus.
Lula Amaha is a veteran of the UW. She's been working as a custodian there for almost 20 years and often worked the same shift as Yeung. She is uneasy about work after Yeung's passing.
"I don't know how to be safe at work," she said. "I don't know what I need to be protected."
Yeung's co-workers worked closely with him, clocking in and out for shifts on a shared computer in a small room. No one knew to wear masks during this process in the weeks leading up to Yeung's death, and co-workers say the computer is not sanitized between uses.
Julius Ordoñez, also in the Maintenance Custodian unit, was a friend of Yeung's.
"Me and Kong were friends, not just co-workers," said Ordoñez.
Ordoñez described Yeung as positive, well-liked and hard-working.
"He was a great guy. He was going to retire in a year and a half," Ordoñez shared. "He was just waiting for his daughter to finish college and then he was going to retire."
"It's like a burden, a weight in the shoulders, living with that. It's like we went to a war. It's like he got shot next to me and there's nothing I can do."
Yeung reported for an end-of-shift meeting wearing a mask on March 20. He was quieter than usual, Ordoñez said, and reported having a sore throat.
He never reported for work again.
The following week, Ordoñez noticed his friend was missing from the new schedule rotation, designed to reduce occupation and exposure at work. Finally, on March 30th, a supervisor called Ordoñez to let him know he had worked with someone who tested positive for COVID-19.
"They kept saying, 'It's a custodian, and you were exposed within six feet, so you need to be quarantined and look out for symptoms,'" said Ordoñez.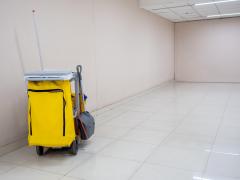 "The next day, I saw in an email that the person with COVID-19 had passed away. I was 100 percent sure it was Kong, but they wouldn't confirm it."
Ordoñez, himself immune-compromised, lives with his wife and elderly mother. All three have underlying health conditions that make them more vulnerable to coronavirus.
The University of Washington has faced widespread backlash over its inconsistent response to the spread of COVID-19 among hospital and campus employees. The administration has waffled on directives around the use of face masks and continues to neglect to provide proper personal protective equipment to all front-line employees.
For instance, at the UW Medical Center cafeteria, management's failure to inform employees that they had worked very closely with a co-worker later diagnosed with COVID-19 raised alarm and anger.
Adding to the anxiety on campus, UW leadership hasn't provided a guarantee that they won't lay off low-wage workers like custodial staff during the pandemic. And it took months of petitioning and speaking out to get UW management to even consider installing protective sneeze guards in high-traffic areas, a precaution that has been adopted across the state of Washington. 
On the empty UW Campus, gloves are standard-issue for the custodians, but masks are not consistently provided. One custodial employee—who preferred not to be identified for fear of retaliation—said she was only able to receive a mask after asking repeatedly.
"You have to push them to give you one. [Protective masks] are very important," she said.
She has a small bottle of hand sanitizer that she used to carry in her purse. Now, it's part of her unofficial work equipment.
Continuing to report to work for shifts that include fewer breaks and increased duties, she and her co-workers are doing their best to keep up and stay safe.
"I can't see my enemy," she said.
Ordoñez continues to show up to the shifts he used to look forward to sharing with Kong Yeung. He says he is grateful to have other union members to lean on during the pandemic.
"You stand together," said Ordoñez. "You need a person who you can talk to who will give his ear and say, yeah, we need to do something. And if you need something, I will be there. You can expect me."
We're calling on UW President Cauce to support front-line workers. Click here to send her a letter.